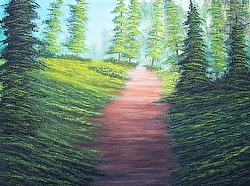 As you may recall from Tuesday, The Pittsburgh area was going through a bit of a rainy spell which was keeping me from getting a photo of my latest painting Pine Trail. How fast things change as today was about as perfect a day as you could get. Ever notice how when it's foggy in the morning it turns out to be a great day? This was one of those so this afternoon I was able to get my photo.
Pine Trail reminds me of the kinds of scenery I come across hiking the Forest and Heritage trails in Raccoon State Park. You want to see the real thing? Park your car at the office just off of route 18, cross route 18 and look for the blue sign "Forest Trail" which is up the road about 300 yards. Hike about three miles into the trail and you will see what I'm talking about. If you want to see even taller old growth pine trees, stay on the trail until it turns into the Heritage Trail and as you walk it's just large tree trunks swaying in the wind with the ground covered with pine needles. Don't say you weren't warned, you are looking at ten miles if you keep going forward but you do come right back out on route 18 near your car which is nice.
This weekend the forecast is calling for rain on both days so I'll be in the studio most of the time working on my paintings, and maybe some spring cleaning too. I need to at the very least finish "Rachael Carson Footbridge" and "Summer Glory 4" and I'm right on pace to do so. Having said that it's time for me to wrap it up and call it a day so I hope you enjoy the new painting Pine Trail and as always take care, and have a great day!
AFFORDABLE FRAMED OIL PAINTINGS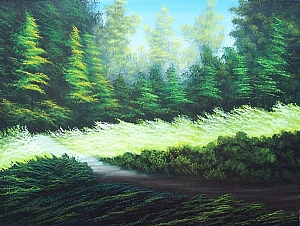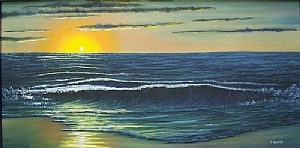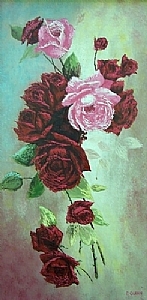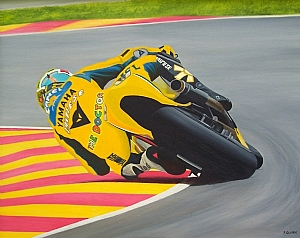 LANDSCAPES SEASCAPES FLORALS COMMISSIONS